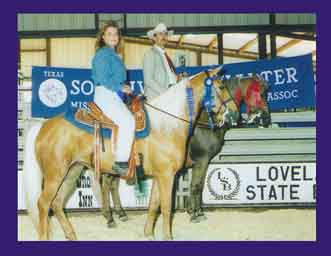 Above photo by Long Exposures
James and Suzanne Sanders at a horse show.

Sanderosa Farms barn.
Archive of Farm Photos

(after viewing the photos, click back to come back to this page.
HORSES
Flash with Rudi - Flash is an outstanding, rare Rocky Mountain Horse. Young Rudi is on the back of Flash.

MULES
Baby Mule - Cute photo of Baby Mule born at Sanderosa Farms on New Years Day, 01/01/01.
Baby Mule with Hat - The Baby Mule is wearing a Sanderosa hat!
Baby Mule and Dog - Baby Mule and Boxer dog, snoot to snoot.
Ringo with Suzanne - Photo of Ringo with Suzanne Sanders. Ringo is a unique animal, he is a sorrel Mammoth Jack Donkey .

MISC PHOTOS
Love Birds - Twelve gorgeous birds snuggled together
Bird House - Large hexagonal shaped bamboo house for Love Birds.
Bird House 2 -Interior photo of the bird house with several beautiful Love Birds .
Bridge - James and Suzanne Sanders Christmas card, 2000. James is riding Rocky, Suzanne is riding Traveller, on the bridge over a creek at the Sanderosa.